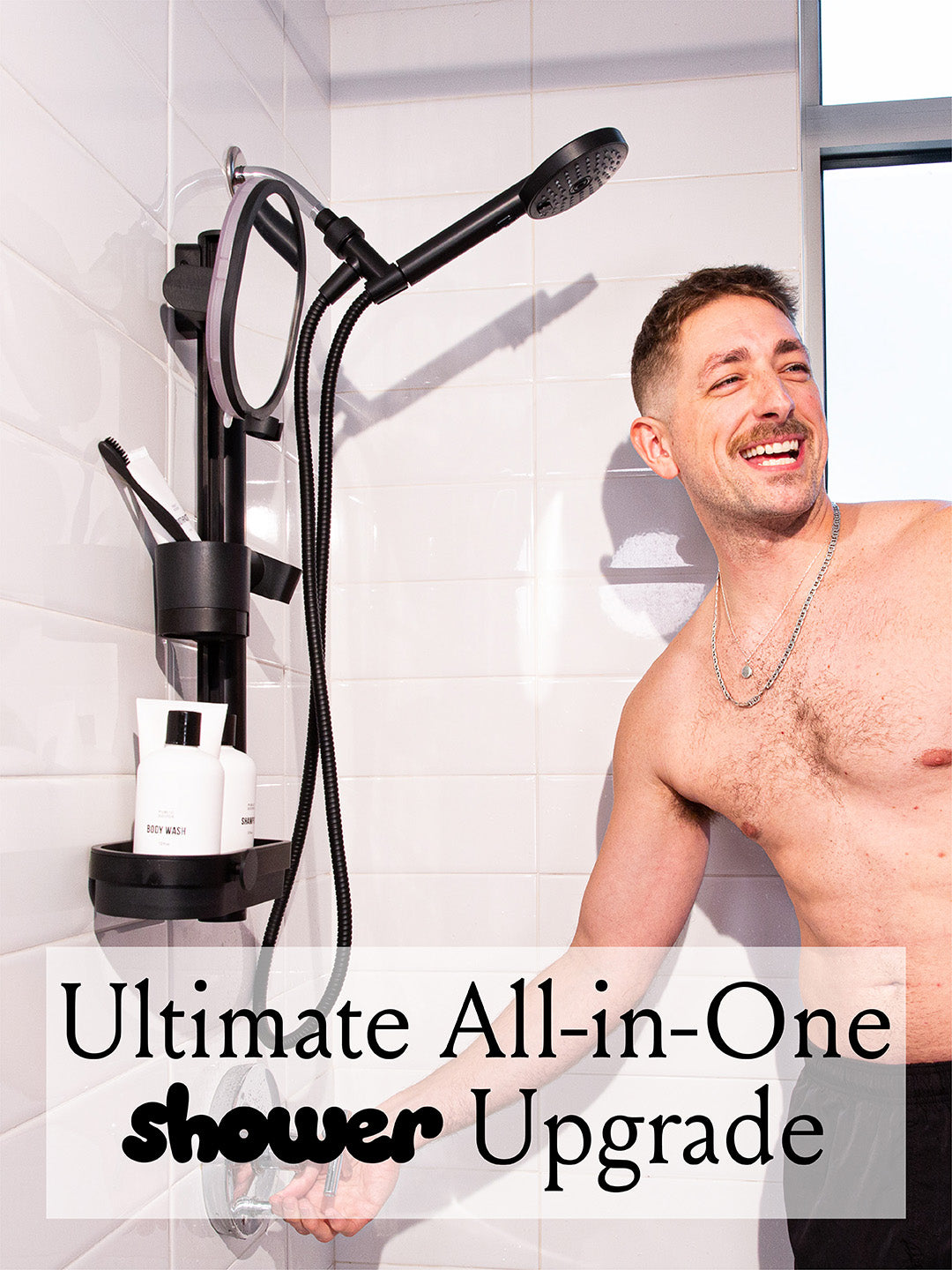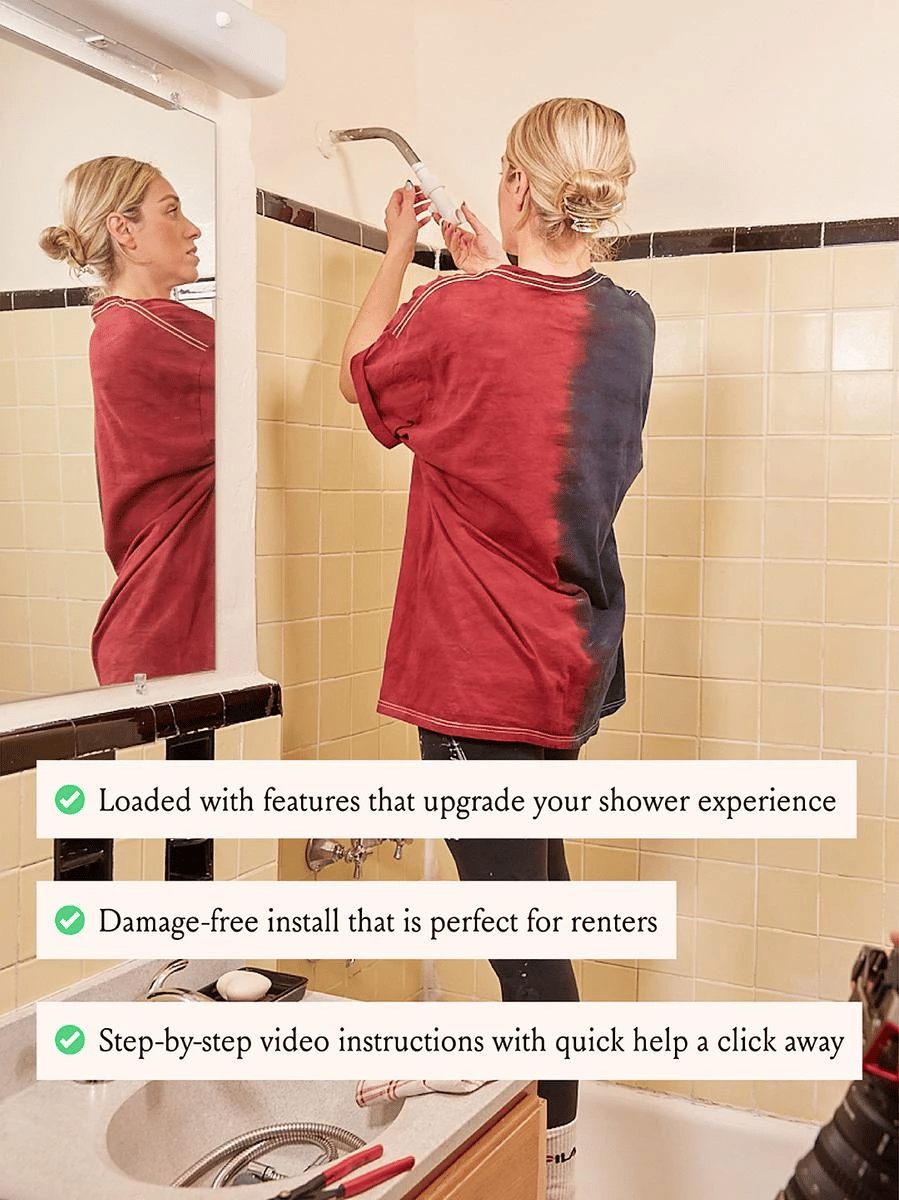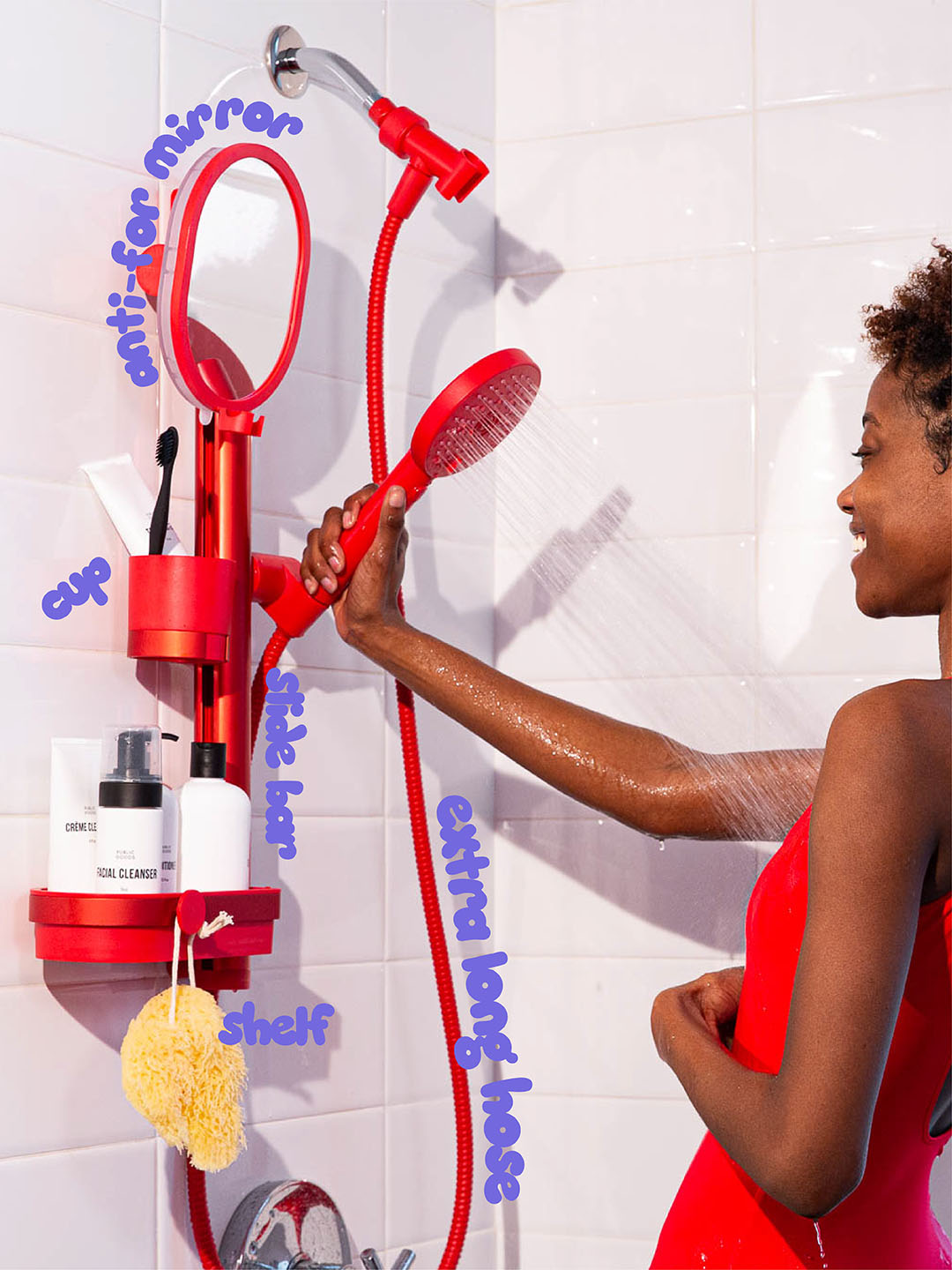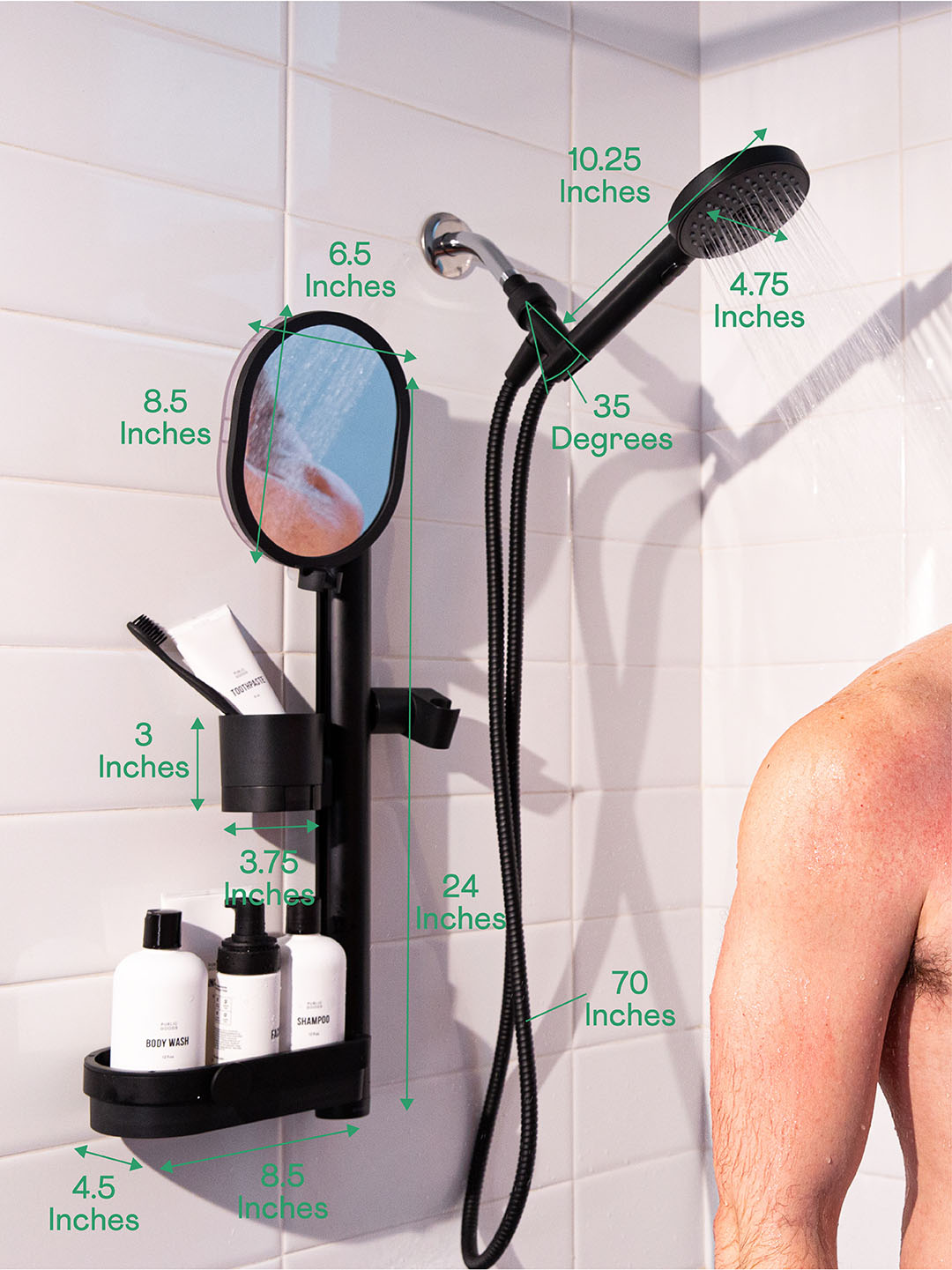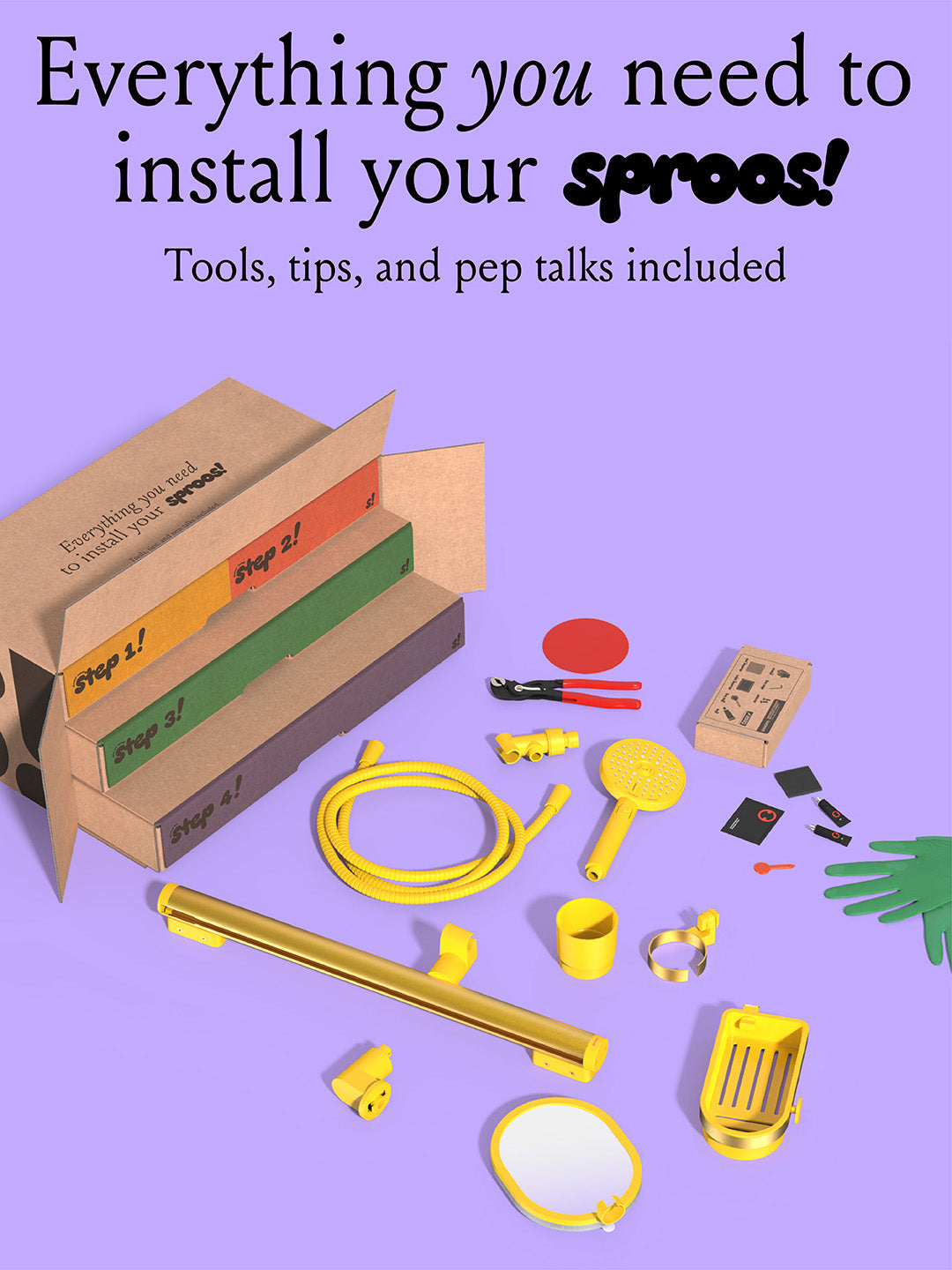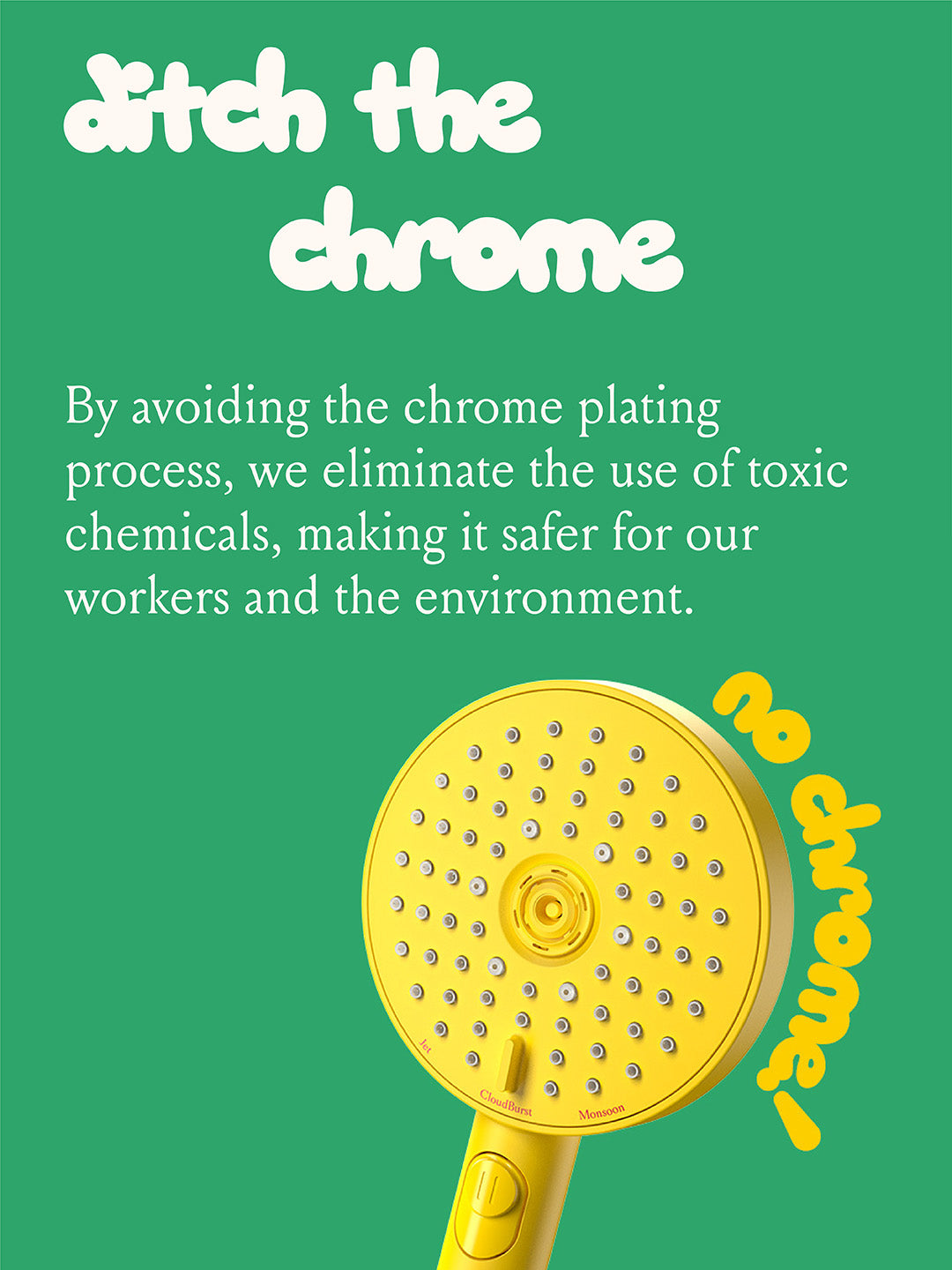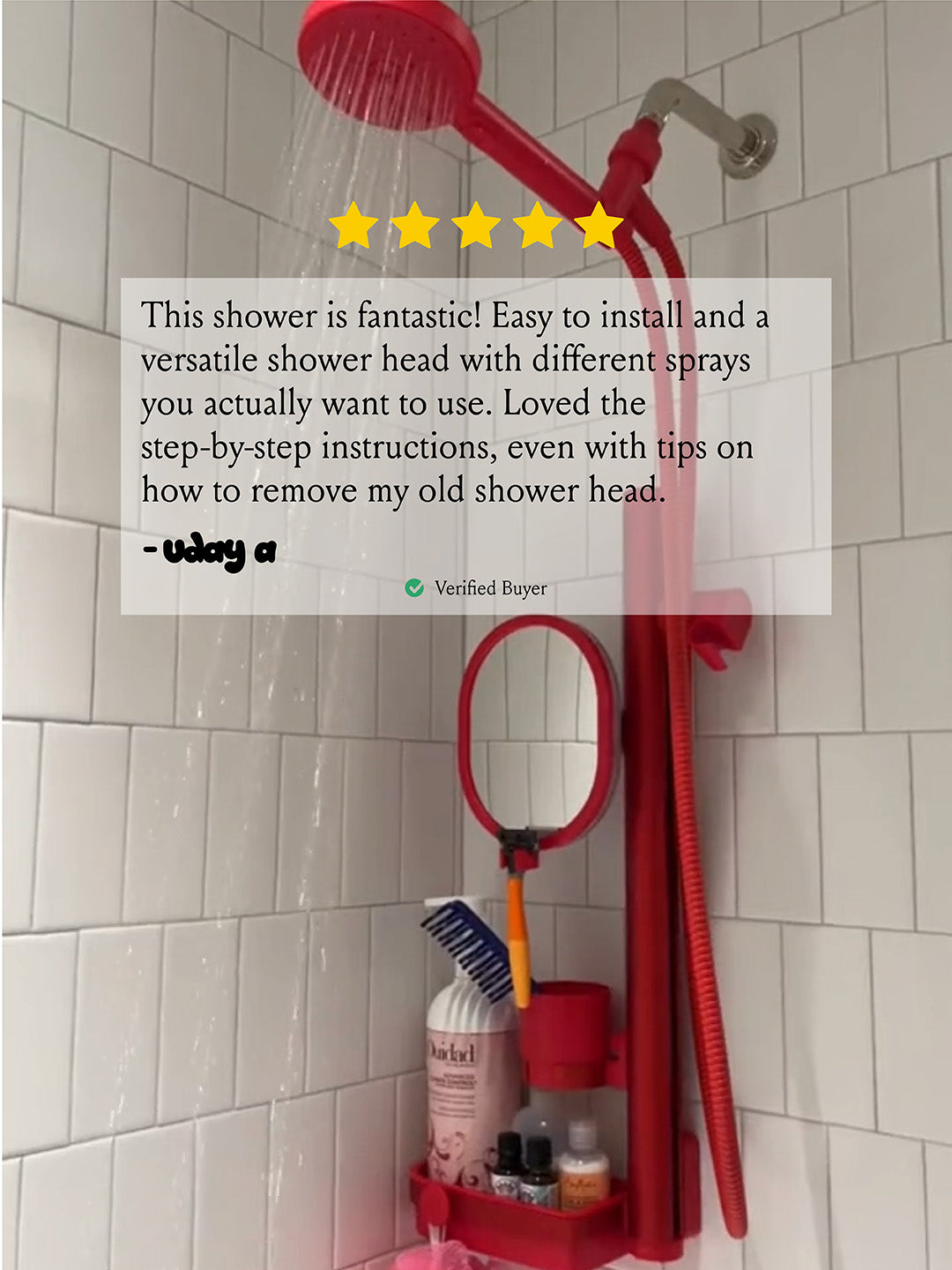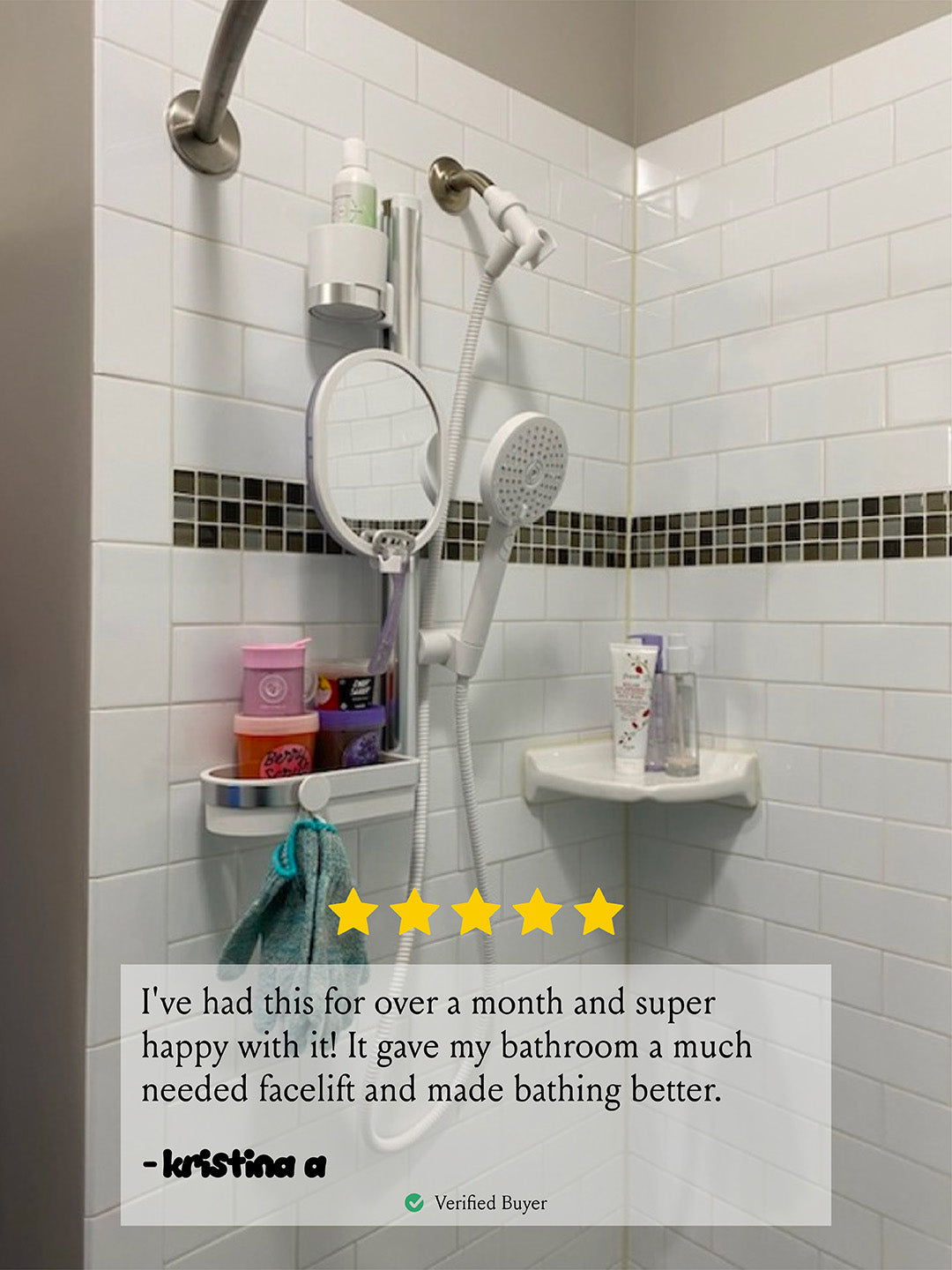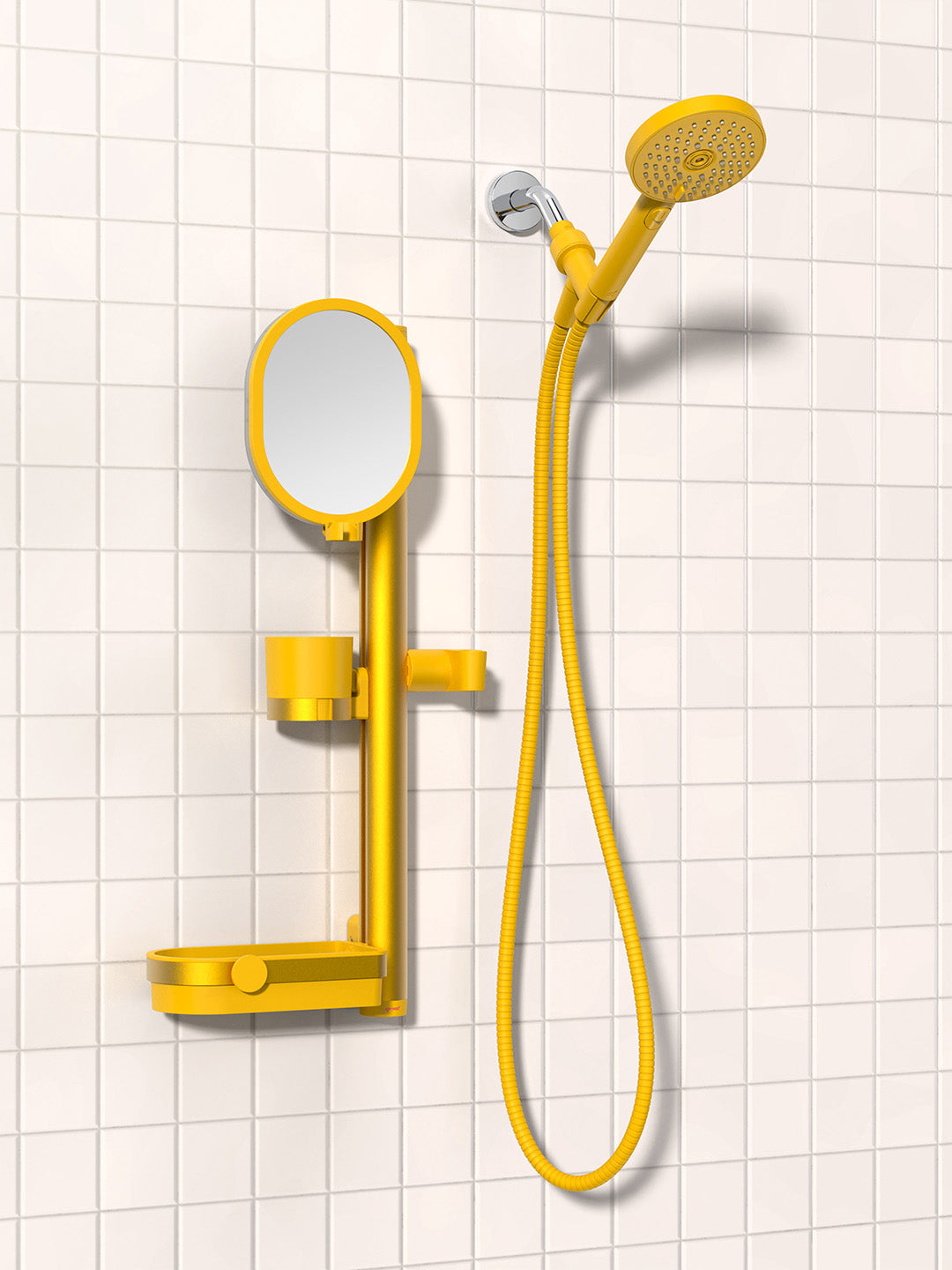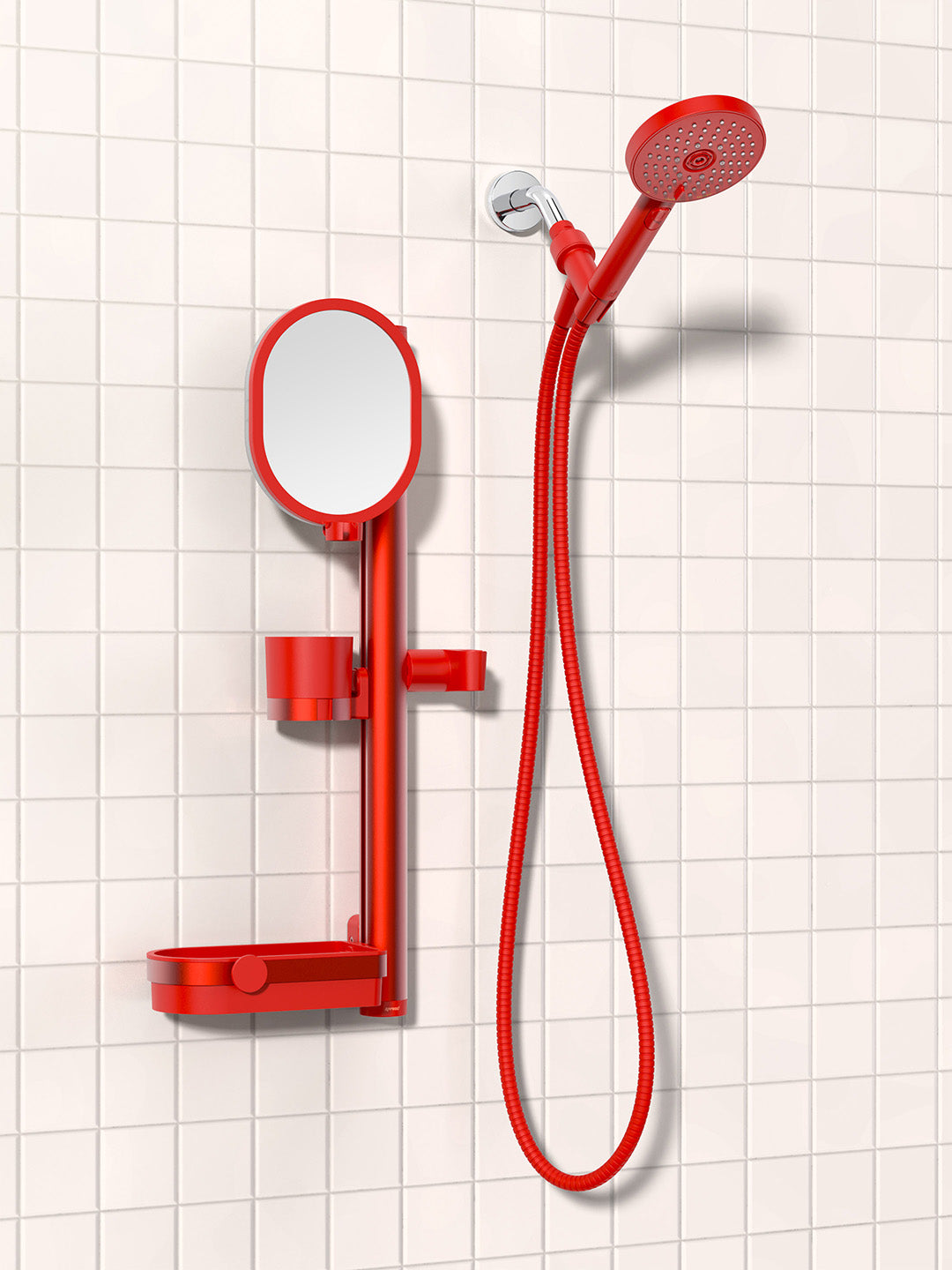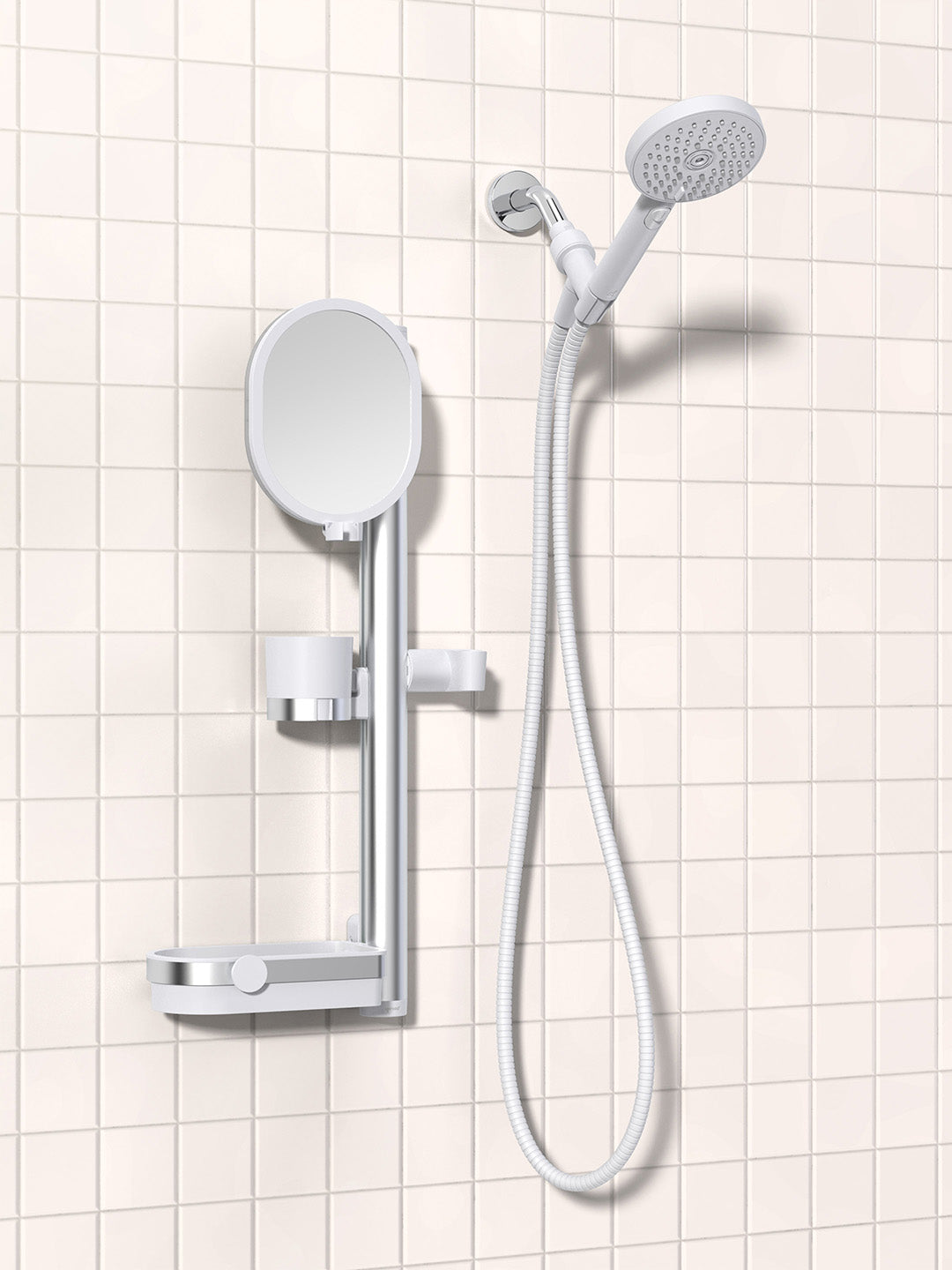 Shipped to Your Doorstep for Only $9.99
Description

Features

Shipping and Returns
The most gorgeous accessory is you.

Our Lookin' Good set was built with you in mind. Because you're always on your mind. You get the hand shower set, sliding rail, soap dish, plus an anti-fog mirror, multi-purpose cup and shelf.
Mirror Mirror on the wall- with Lookin' Good you get it all:
You get a hand shower with three spray functions for three different feels, a pause button to help you save water, and an anti-fingerprint finish that's pro-looking good.
Your hand shower fits right at home in our lovely little bracket, for a more traditional clean. But, feel free to move the shower to the slide bar and adjust the height for all those hard-to-reach places.
The Lookin' Good is simple to install, too. The set comes with everything you need and easy online instructions. No trips to the hardware store needed- unless you'd like a plant to go in your shower or something.
Everything installs with our patented glue-mounting technology. The anodized aluminum shower rail installs without any drilling and leaves no trace when you decide to leave!
3 shower sprays: Monsoon, Jet, and Cloudburst
A pause button, ideal for washing dogs, children, plants, and... maybe even dishes?
Premium silicone spray nozzles for easy cleaning
1.8-gpm (gallons per minute) flow rate complies with WaterSense and CalGreen standards
High-quality, flexible, and extra-long shower hose (70 inches!) in a matching color
Injection-molded matte surface texture that prevents fingerprints and eliminates the toxic chrome-plating process.
High-grade anodized aluminum used for the 24" shower rail
Pivotable hand shower bracket
Handy-dandy wrench for removing the existing showerhead
German-engineered adhesive system, made by tesa, allows drill-free installation and removal without leaving a trace - keeps all your shower things where you want them. No drills. No mess. Just easy.
Height-adjustable shelf with drainage slots and hook, for 2 big bottles or a few smaller ones
If you don't absolutely, positively love your new sproos! shower that's... perfectly ok! We give you 60 days to try it out and return it if you don't love it. That's two months! Math!
We offer a flat shipping rate of $9.99 for customers in the United States and Canada.
Attention all Canadian customers: just a heads up that your order may incur taxes, duties, or other fees when your package arrives. We don't like surprises any more than you do, so please be aware of these additional costs and plan accordingly.
Expedited shipping is available.
We'll have your order ready to hit the road within 4 business days.
Shipping to U.S. and Canada.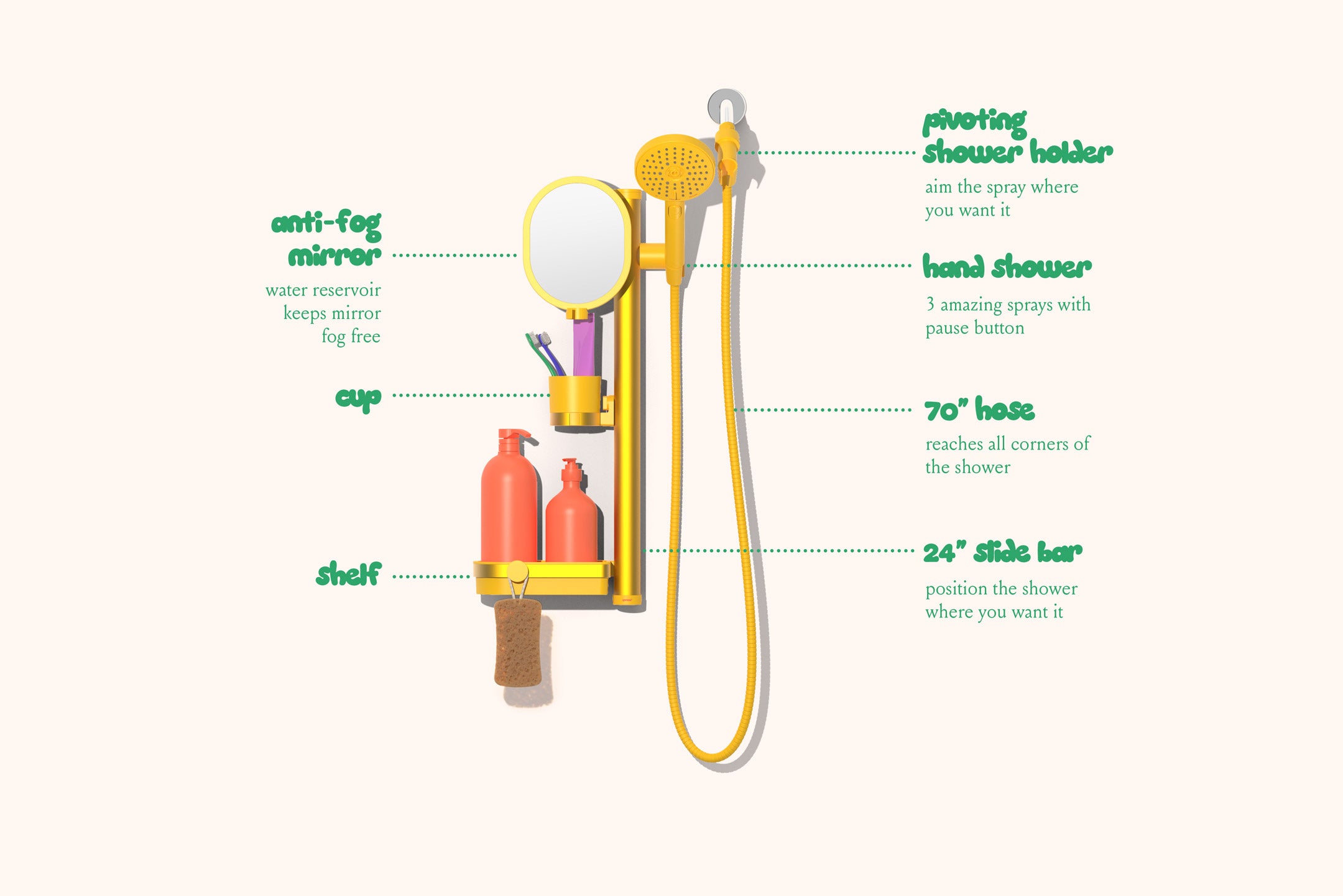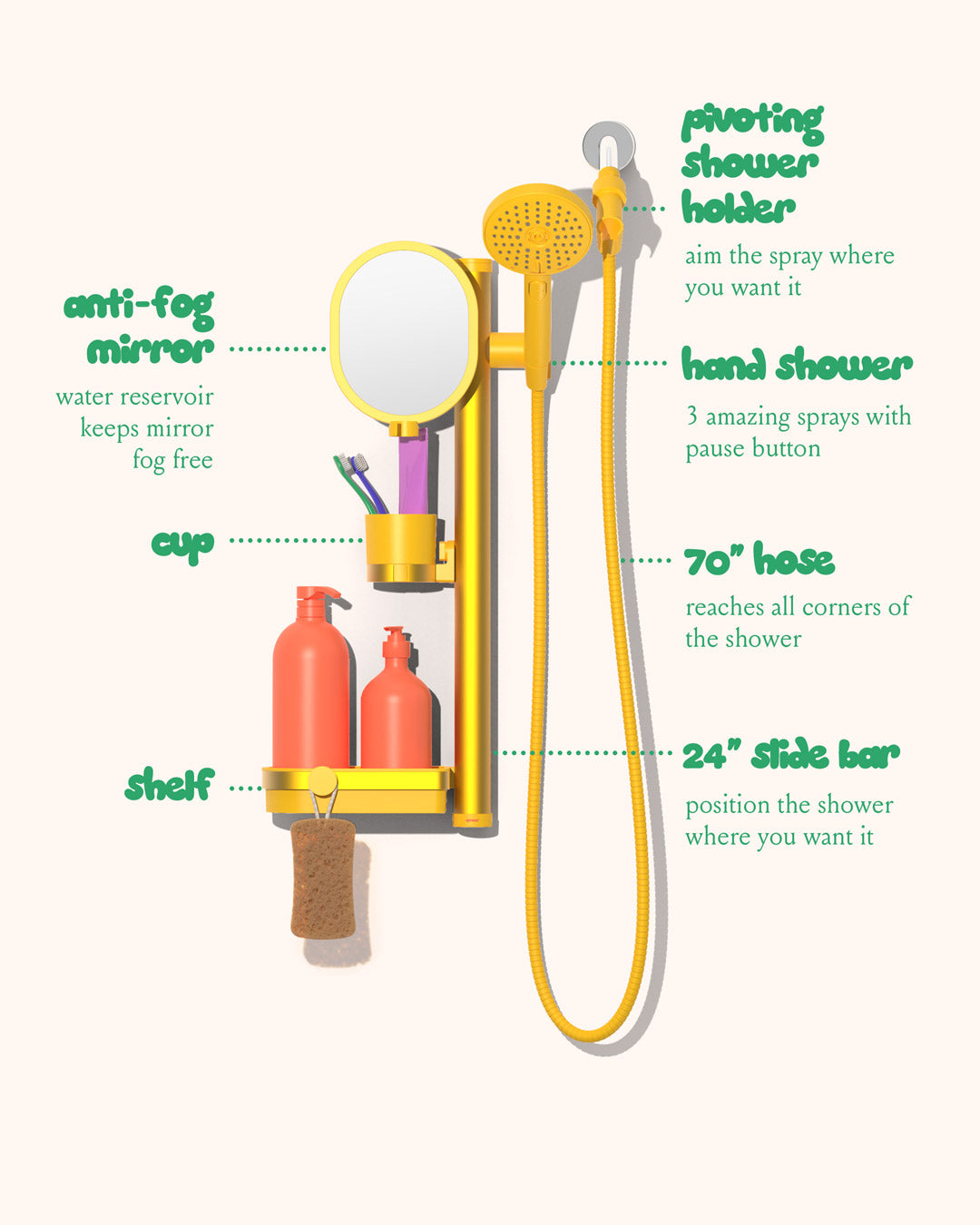 see us in




A Little More Behind the Curtain
The perfect spray for any of your needs; Cloudburst, Monsoon, or Jet. it's up to you.
Tap the pause button to bring the waterworks to a trickle.
The slide bar lets you choose the perfect height for a perfect shower.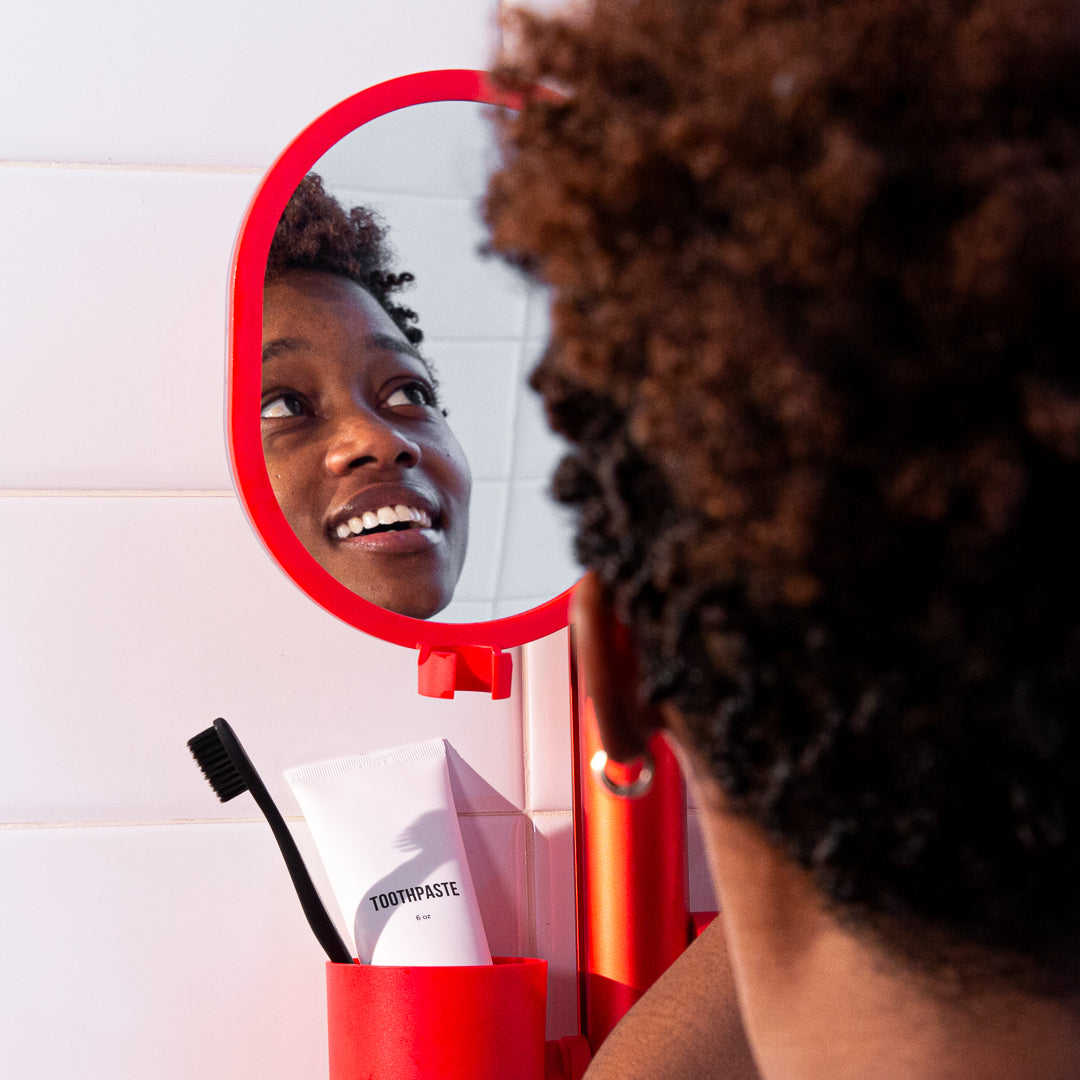 Anti-Fog Mirror
The shower can be a lonely place. But our mirror has a nifty rear reservoir to make sure it never fogs, so you'll always have a clear view of you to keep you company.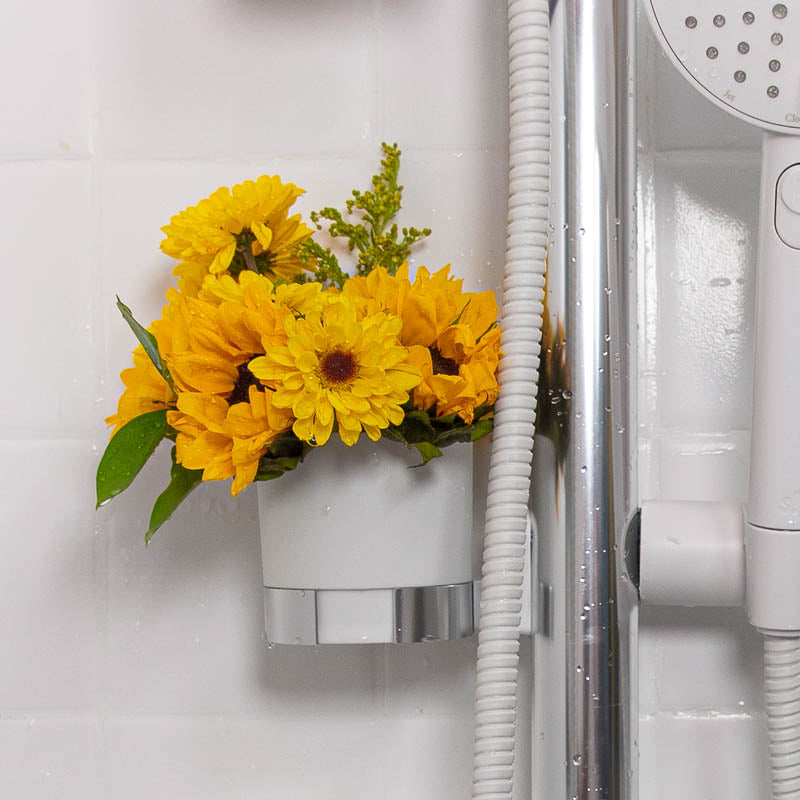 Cup
Shower beer? Friendly little plant? Toothbrush and toothpaste? You do you!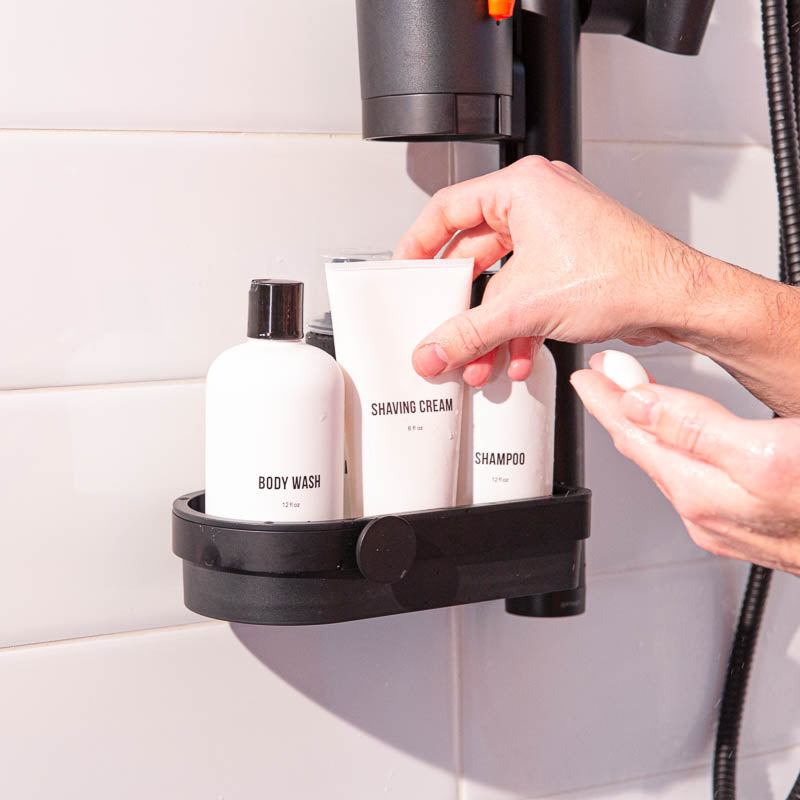 Shelf
Shelf-ie, anyone? Room enough for 2 big bottles or a few smaller ones. And a hook on the front keeps your loofah at its loofah-i-est.
Install the perfect shower rail without any damage to your wall.
German-engineered adhesive system, made by tesa, allows drill-free installation and removal of the slide bar without leaving a trace - keeps all your shower things where you want them. No drills. No mess. Just easy.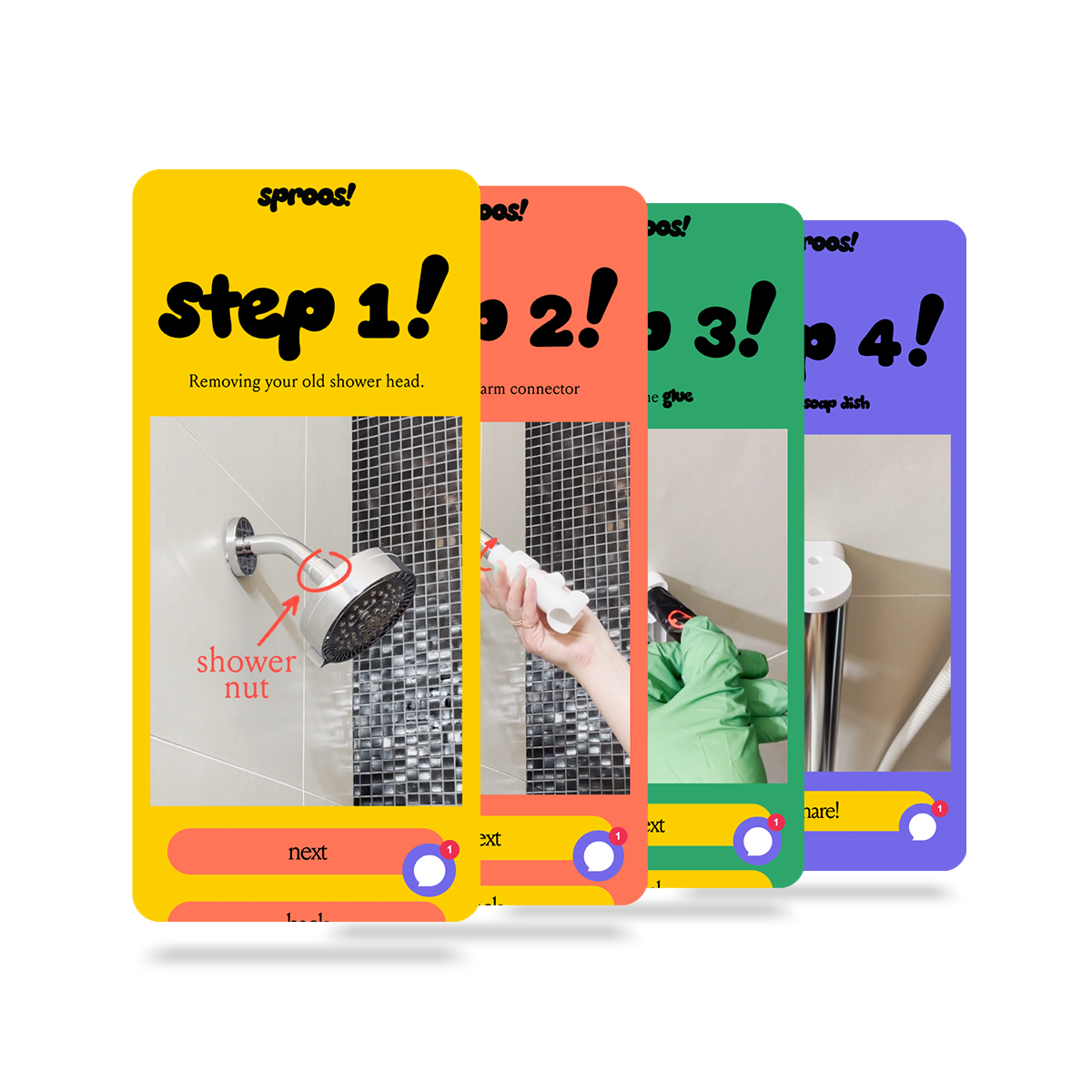 Step by Step Instructions
Don't worry, we've got your back! Follow our simple steps to a successful install. We'll even help you troubleshoot if it gets too difficult - just chat with us and get the job done right away.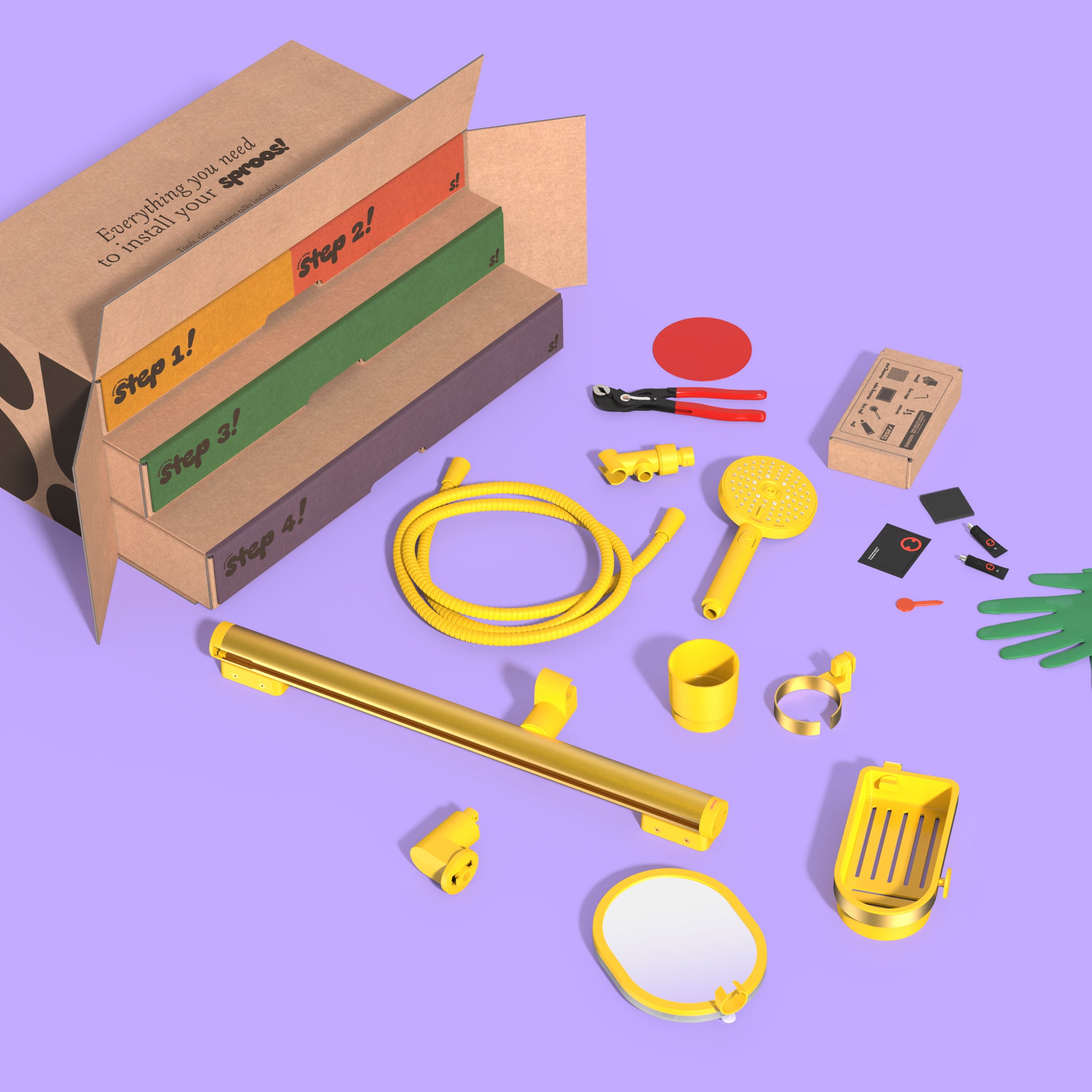 Unbox Your Way to Happiness
Everything you need is in the box… everything! Our step-by-step installation kit will guide you through the process. Do it yourself, with a little help from sproos!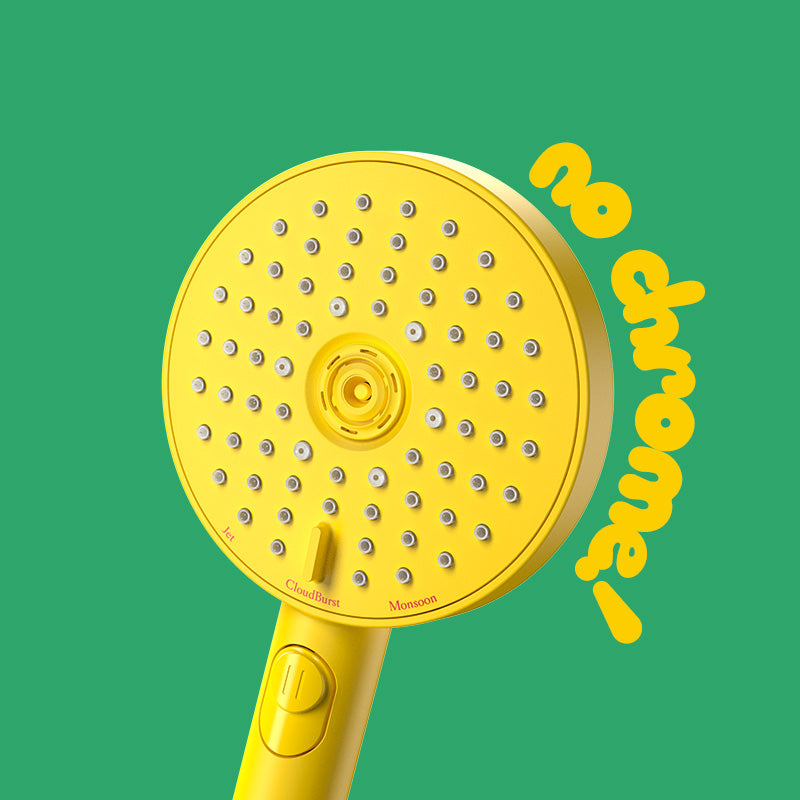 Our showers are green. Even the yellow ones.
Every sproos! shower aims to clean you without dirtying up the Earth. That's why we never use chrome-plating, which contains harmful stuff like Hexavalent Chromium. Because we live on the Earth, and we want to help keep it that way.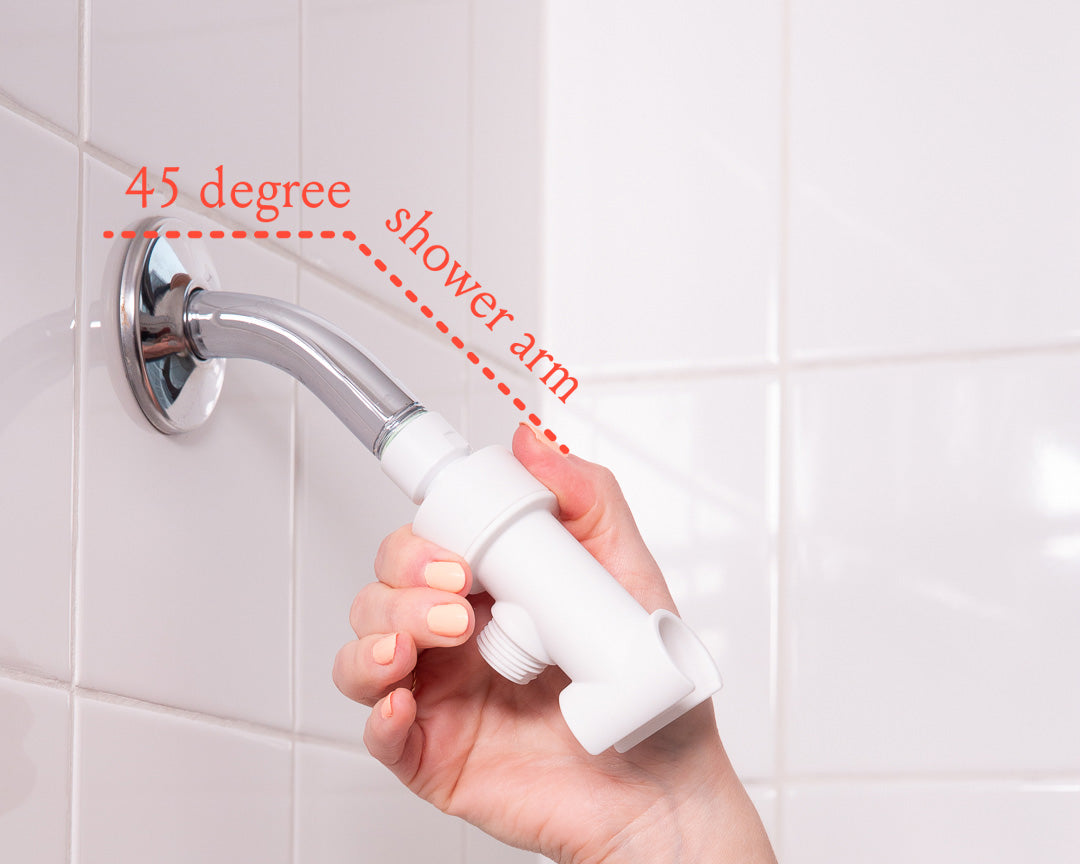 Will a sproos! work with my shower?
Your shower and sproos! were made for each other.
The hand shower is designed to pair perfectly with any 45-degree shower arm. Not recommended for straight horizontal, or vertical shower arms.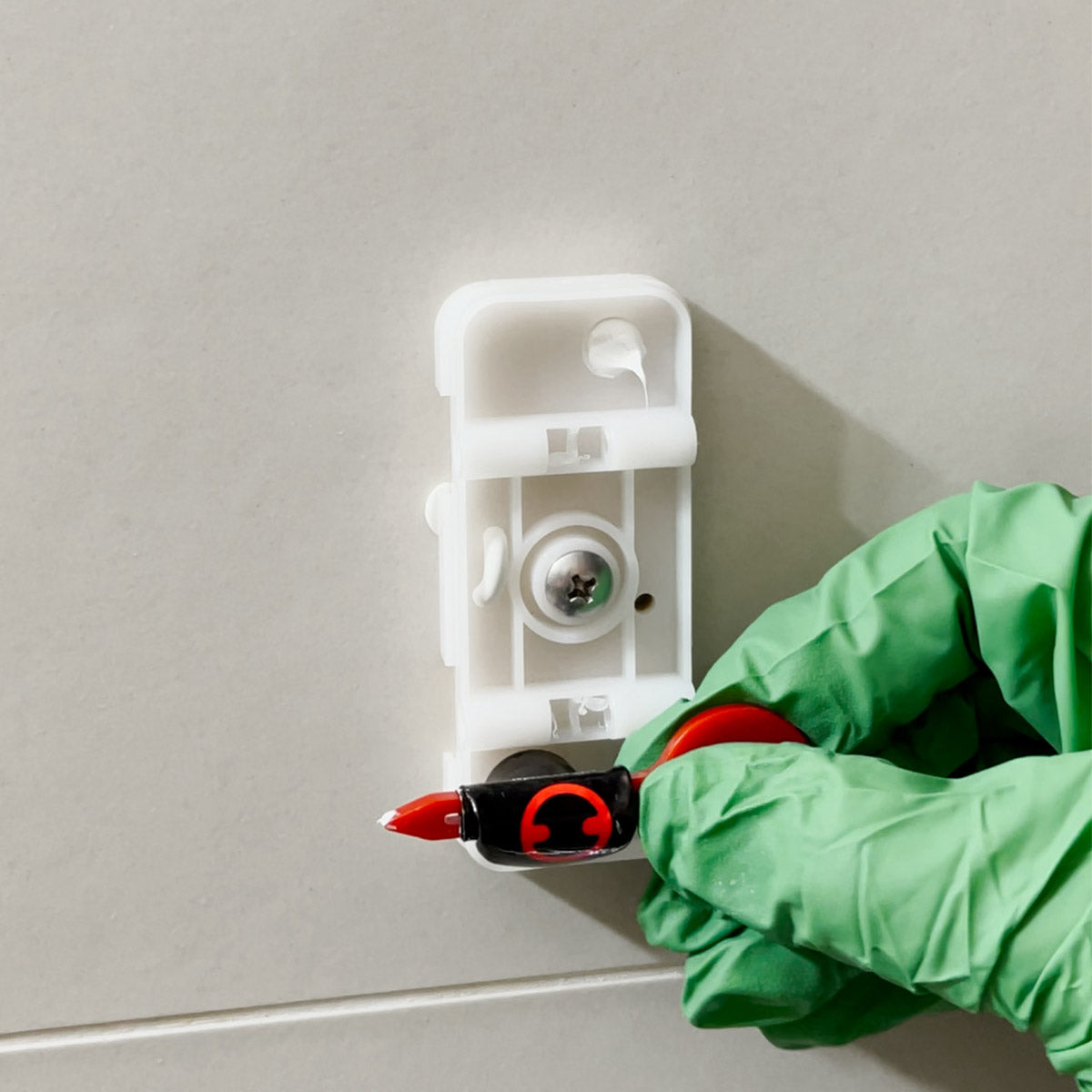 How does the glue work?
Our German-engineered adhesive system, made by tesa, secures the bar to your shower wall. Simply fill each side of the mount with glue and let dry for 12 hours. When you are ready to remove, simply pry the mount off by sliding a putty knife between the glue and wall. Any remaining residue can be scraped off.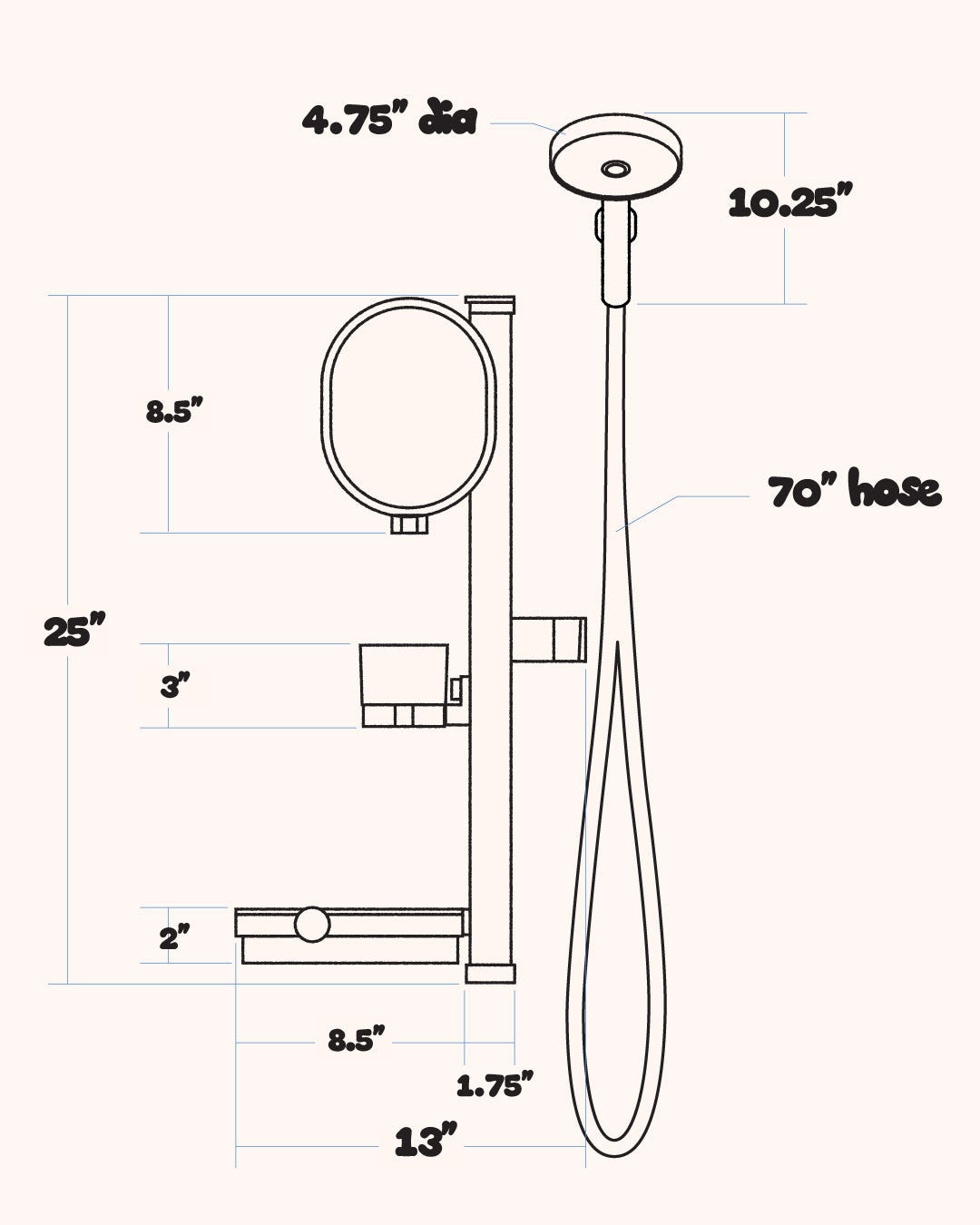 Will it fit?
Take a look at the basic dimensions of our shower system. The bar can be mounted in many locations but make sure there is room for your accessories on the left and space for the hand shower slider.